Our Family Health Team is in partnership with the University of Toronto and the Family Medicine Teaching Unit (FMTU).
Established in 2009 in partnership with the Department of Family and Community Medicine at the University of Toronto, Southlake's Family Medicine Teaching Unit enrolls 9 family medicine physician trainees (seven Canadian and two international medical graduates) every year for a two-year program.
The Family Medicine Teaching Unit (FMTU) is a medical setting where first and second year medical resident physicians will receive their specialty training as a Family Physician. Each resident will manage his/her own practice of patients, under the supervision of our experienced family physicians. With a shortage of health professionals in the community, this program provides healthcare to patients who might not otherwise have a family physician.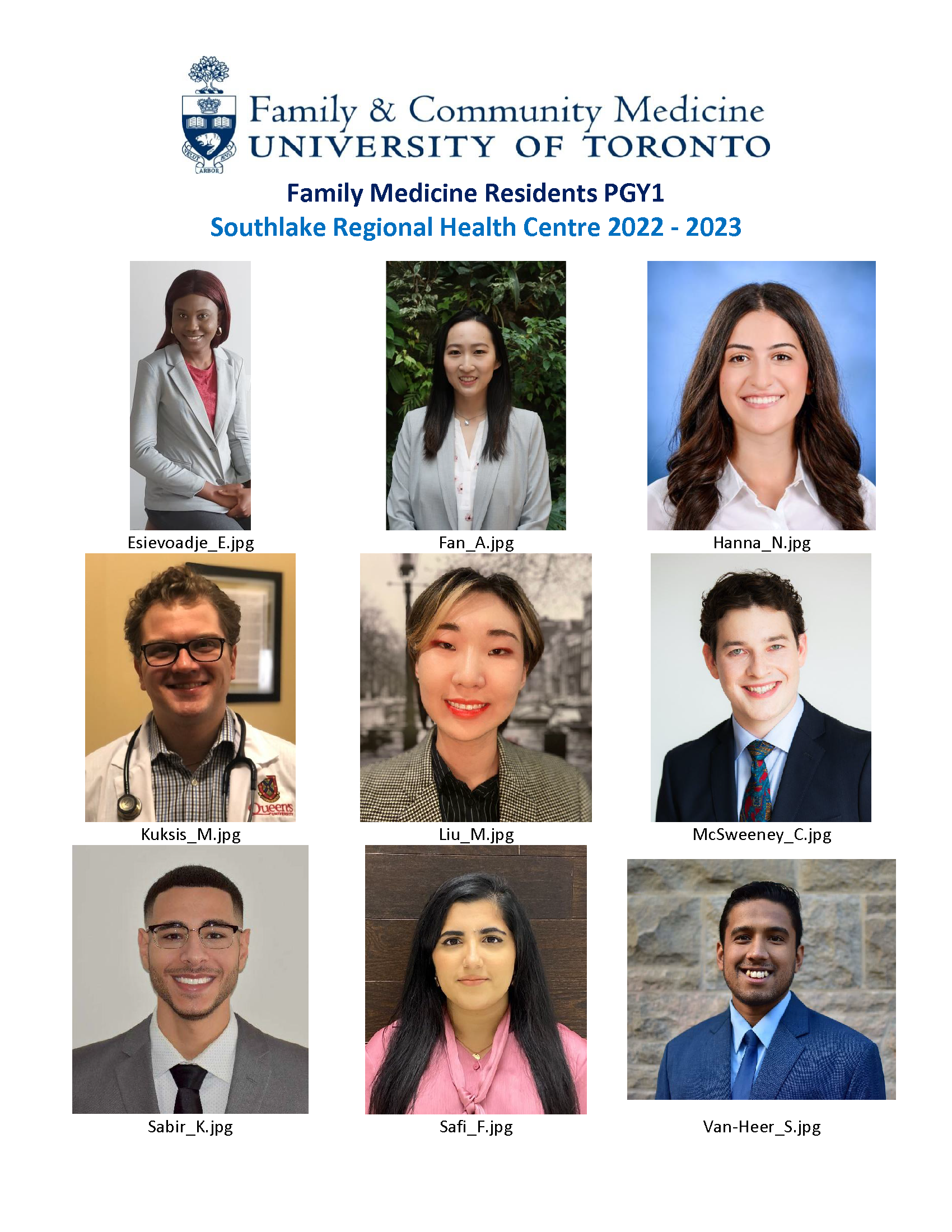 The FMTU has 11 teachers providing training for the residents, who are family physicians that also have their own practices at the Southlake Family Health Team. In addition to this, the residents work alongside nurse practitioners, social workers, pharmacist, caseworkers and other healthcare professionals in the Southlake Family Health Team to provide the highest quality of care for their patients.
---
The physicians at the Southlake Family Health Team have been recognized by the University of Toronto's Department of Family and Community Medicine for their achievements in the resident's educational program:
Dr. Monica Nijhawan, Staff Excellence Award
Dr. Navsheer Gill, Excellence in Leadership Award
Rhonda Taylor, Excellence in Teaching Award
Dr. Navsheer Toor, Excellence in Teaching Award (Early Career) in the Community Affiliated category
Dr. Gurpreet Mand, Award for Sustained Excellence in Teaching in the Community Affiliated category
Dr. Lana Kiehn, Annual Postgraduate Teaching Award
Dr. Karim Abdel Shahid, Postgraduate Award of Excellence
Dr. Monica Nijhawan, Faculty Development Program Award
Dr. Paul Cantarutti, Excellence in Education Award from the Southlake Regional Health Centre
Dr. David Makary, Department of Family and Community Medicine Undergraduate Education Program "Teaching in the Family Medicine Clerkship (Hospital-Based)" Award
Dr. Paul Cantarutti, Excellence in Community-Based Teaching Award from the Faculty of Medicine, University of Toronto
Dr. Robert Doherty, Award for Educational Achievement in Program Leadership
Dr. Paul Cantarutti, Faculty and Staff Achievement Award in Educational Achievement Innovation in Education
Dr. Gurpreet Mand, Award for Excellence in Faculty Development
Dr. Paul Cantarutti, Excellence for New Teachers Award
>